The Story of Reamker
surtitle text:
Preah Ream picks the mangosteen, sapodilla, longan
Giving them to His lovely wife.
Preah Leak picks the Sophi flower
Offering to His lovely sister-in-law.
Seeing her by His side
The demon King tells His follower.
"Disguise yourself as a stag
To lure the king to go far away."
Lady Seda sees the golden stag
Wanting to have the beast.
The King grabs His powerful arrows
Chasing the beast.
Loud call: "Leak, help me"
"Do not worry about me
Just think about His Majesty who goes far away."
Receiving the words, then bowing
To leave hurriedly.
Preah Leak draws a magic circle to
protect His sister-in-law, Lady Seda
Seda salutes the hermit,
Daring not to pass the magic line.
The younger brother Preah Leak warns
"Not to pass the very powerful line."
Pitiful as lonely
Taking Reap to crown Lanka.
THis wicked hermit is really evil
Speaking without reflection.
Arriving but not seeing Her loving Majesty
The two royals abashed.
"Therefore, may it pray, Your Majesty
Calling Hanuman to come to your audience."
Preah Ream draws a bow to call Hamuman.
His Majesty removes His ring from His finger
Giving to His follower.
"Give it to Lady Sita
Hurriedly go, then return."
Quickly displaying the magic power
Going toward the City of Lanka.
"In my heart, I remember
When we were young in the kingdom."
Painfully in the heart, without thinking about life
Telling the evil demon not to wish.
Furious, then swearing that surely dying
"I cut your head and plant it on a stick."
Having said, then stomping the feet
Going to the royal palace.
Sita remains alone
Sorrowful longing her husband.
Hanuman approaches to offer the ring
Informing that it is from His Majesty.
Sita receives it with worry
Bowing to quickly bid goodbye.
"If death befalls, may I reunite with His Majesty"
Upon uttering, Her Majesty weeps.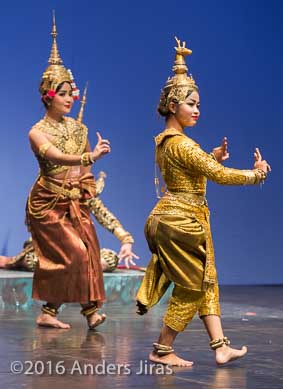 Lady Seda sees the golden stag
Wanting to have the beast.