Buong Suong is a religious ceremony inside the Royal Palace led by Brahmins for the king and the royal family.

The Royal Ballet of Cambodia. Ministry of Culture and Fine Arts. UNESCO. September 2008. ISBN-9789995095116
p. 41:
For example, Moni Mekhala is a dance related to rain and storm or a dance related to the creation of the world. There are two forms of nature, nature in the atmosphere and nature in the human mind. These natures are composed of four basic elements: water, earth, fire, and wind. Wind plays an important role in balancing these four elements and brings happpiness to the world. Mekhala holds Keo Moni which represents water. Ramasura holds an axe which represents fire. Krou (Guru) represents the law of nature that made these two beings with different capacity and ability to control the world. The happiness of the world depends on Mekhala and Ramasura to cooperate with each other in accordance with the law of nature. When Ke Moni and an axe hit each other, it makes light and rain to maintain the world. This is the true meaning of Moni Mekhala dance that Khmer people like to watch and is the basic concept. This saying reveals the relationship between the concept of art and the real life of Khmer people: "life is art and art is life". On the other hand, the Khmer life is not different from the meaning of Khmer classical dance.

p.86, 6. Lakhaon Kbach Boran Khmer
Roeurng Moni Mekhala (Episode Ream Eiso)
Moni Mekhala is a scene of Khmer Classical Dance that expresses greed and deed. It describes a bad person who did bad things to his friend, and finally was eliminated. Ream Eiso was a friend of Moni Mekhala and learned from the same teacher. Because of jealousy, Ream Eiso wanted to take away Keo Moni from Moni Mekhala. Finally, Ream Eiso was defeated by Moni Mekhala. According to Khmer legend and tradition, the thunder and lightning are the symbols of the fighting between Moni Mekhala and Ream Eiso.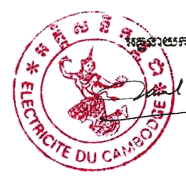 Moni Mekhala is also the symbol for "Electricité du Cambodge", the Cambodian Electricity Company.