Khmeropédies II, 2009
Choreographer: Emmanuele Phuon

Photos from rehearsals

Emmanuele Phuon is French-Cambodian and lives in Brussels, Belgium. She started her training with the Royal Ballet of Cambodia at age 5. In 1975, she moved to Bangkok with her mother where she lived until age 16. At that time, she decided to become a dancer and left for Avignon, France, where she studied and graduated from the Conservatoire National de Dance in 1986. In 1987, she went to New York. She has performed with the Elisa Monte Dance Company from 1989 till 1994, the Baryshnikov White Oak Dance Project from 1995 till 2001 and has worked with Martha Clarke, Joachim Schloemer, Meg Stuart, Yvonne Rainer among others. Khmeropédies II is her second choreography and will be part of a larger project in 3 sections. The first one, Khmeropédies I, a solo for dancer Kunthea Ken was performed in New York in April 2007 at the Baryshnikov Art Center.

Note from the choreographer
Khmeropédies is a play between the words Khmer and Gymnopedies, a reference to Satie, and could mean exercises in Khmer style. The basic idea for the work is to take Khmer classical dance vocabulary and change its context, to apply it in different ways and to different themes, and to push it as far as possible from its original form and yet to keep it recognisable. Part 2 of Khmeropédies which is being developed here in Phnom Penh is about the dialogue between one "older" star dancer and teacher, rooted in traditions and her three young students who are curious and want to experiment with other techniques. I envision this whole thing as a process of sharing my experience as a contemporary dancer with my country of origin. I am interested in seeing where and how these two forms of dance can meet. I am searching for a dialogue between new and old ways of expressions, using dance as the language we have in common. I am hoping that this will contribute to feed the curiosity and will of the new generation, who will then create their own vocabulary - a freedom of speech through Dance...

Dancers:

Sam Sathya was born in 1969 and started learning classical dance majoring in female role in 1981. She finished the school in 1988 and became a classical dance teacher a year later. Sathya is a star dancer at the school of dance. She dances the role of Seda (Sita) in the Cambodia's Ramayana epic in all the performances of the Ministry of Culture and Fine Arts including the Ramayana Festival at Angkor Wat temple. She was lead dancer in the contemporary classical dance pieces by the renowned Cambodian choreographer Sopiline Cheam Shapiro including Samritchak (a re-interpretation of Mozart's Magic Flute). She has represented Cambodian dancers in a lot o international and local conferences and workshops. She has choreographed a number of classical dance works and worked in a number of contemporary dance pieces.

Chey Chankethya started her classical dance training as young as 6 years old. Upon completion of the school in 2000, she pursued her study at the Royal University of Fine Arts and obtained her BA in 2005. She also holds a BA degree in English from the Royal University of Phnom Penh. As one of Cambodia's best classical dancers, she has performed and participated in numerous dance workshops nationally and internationally. She was awarded a Choreography Arts Management's fellowship for a three-month residency at the University of California, Los Angeles (UCLA). Being a classical dance teacher, Kethya also founded Trey Visay (Compass), a contemporary dance initiative to explore and create contemporary dance vocabulary.

Chumvan Sodhachivy began training in Cambodian classical dance in 1994. She was trained specifically in Neay Rong (male role). She was also trained in Neang (the female role in classical dance), folk dance and Sbek Thom (Cambodian large shadow puppetry). Her classical dance work Soryakheat Chankheat for her final BA final exam was featured in the first Rencontres International de Theatre 2007 festival. She was then commissioned to choreograph a contemporary work Water Master for the second Rencontres Internationales de Theatre 2008 festival. She participated in Watermill Center 2006 International Summer Arts Program in the United States. She participated in the 2006 Hong Kong Dance Festival and a contemporary dance workshop on the occasion of the international Dance Day Celebration 2007, Kolkata, India. She has participated in numerous workshops with international artists from India, Indonesia, the US and the the World Dance Alliance - Asia Pacific, which she learnt other different disciplines such as puppetry, Indian dance, Arabic dance, Balinese dance and contemporary dance.

Phon Sopheap was trained the monkey role of Lakhaon Kaol classical male masked dance. In 1996 he worked with a Cambodia-French choreographer in a contemporary work Rainbow. He collaborated with Pichet Klunchun, a Thai dancer and choreographer and created a contemporary work based on traditional Lakhaon Kaol, Revitalising Monkeys and Giants, which was featured at the opening Festival of the National Museum of Singapore, June 07 Singapore Arts Mart, and Malaysia's 2008 TARI festival. He participated in workshops with Miroto Martinus, an Indonesian dancer and choreographer, exploring contemporary dance based on traditions. He joined the Young Choreographer Training Workshop in Surabaya in July in July 2006 as part of the Indonesian Dance Festival VIII and created a contemporary piece A Monkey's Mask, which was performed at the June 07 Singapore Arts Mart at the Esplanade. He was dancer in the Transmission of the Invisible choreographed by the Canadian choreographer Peter Chin.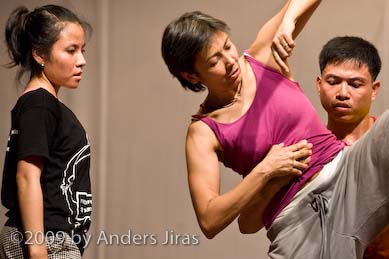 Chey Chankethya, Emmanuele Phuon and Phon Sopheap
Rap Artists: Tiny Toones
Beats: Peanut
Lyrics and Singers: Vy Chamroeun, Kong Piseth (JR)
www.tinytoonescambodia.com

Workshop Dancers:
Hem Linda
Hang Borin
Sao Rithy
Khiev Sovannrith
Men Nimith
Yim Savann
Penh Chumnit
Nuon Sovitou
Chi Ratana

Produced by Amrita Performing Arts
Fred Frumberg - Executive Director
Suon Bun Rith - Country Director
Kang Rithisal - Program Coordinator
Sin Sokunthea - Office Manager
Ly Vouchcheng - Box Office Manager
Hourt Bunny - Production Assistant
www.amritaperformingarts.org

Technical Team
Keo Thy
Ven Nara
Som Khemrey
Hem Veasna
Hin Mony
Chan Bunthan
Chhun Vireak

The first phase of this work grew out of a workshop that took place at the Baryshnikov White Oak Dance Center in the US state of Florida in August 2008 with generous support from the Howard Gillman Foundation and the Asian Cultural Council. The new phase of development has been made possible through support from the Asian Cultural Council and the Rockefeller Foundation.