Lakhon Khol
Lakhaoun Khaol exhibition catalogue, bilingual Khmer and English, 52 p., Reyum Publications 1999 (The catalogue also includes a technical description of the techniques used to make the lacquer masks used in performances of Lakhaoun Khaol.)

Morotti, Fabio, Teatro e danza in Cambogia, Collana Antigone, Editoria & Spettacolo, Pages: 368, 2010, ISBN: 8889036753 ISBN 13: 9788889036754

Phim, Toni Samantha and Thompson, Ashley: Dance in Cambodia. Oxford University Press. 2000. ISBN 978-9835600593

Preap, Chanmara, Lakhaoun Khaol At Vat Svay Andet, Khmer version, 44 p., Reyum Publications (This book surveys a dance performance called the Lakhoan Khaol performed by the villagers at Vat Svay Andet, Kandal province. The survey also includes a brief historical account as well as an analysis of beliefs related to this particalar form of performance.)

Selected Reports in Ethnomusicology, Volume IX, Dept. of Ethnomusicology, University of Califonia, Los Angeles 1992, Sam-Ang Sam: The Floating Maiden in Khmer Shadow Play

Sem Sara, Lokhon Khol au Village de Vat-Svay-Andet son Rôle dans les Rites Agraires, Selected Article from Universite Royale Des Beaux-Arts, Phnom Penh, Annales num. 1, 157-187 pp., 1967

And some repertory:
Chambang Kompikar (The Battle of Kompikar)
Chambang Peal Yub (The Battle at Night)
Preah Ream Choul Kaot Banhchhaot Neang Seda (Rama enters the body urn to cheat Sita)
Preah Ream Der Tes (Rama's exile in the forest)
Preh Rem Chong Tnaol (Rama bilding a bridge to Langka)
Sangkream Indrachit (The Battle of Indrachit)...
Sangkream Virul Chambang (The Battle of Virul Chambang)
Sida Luy Phloeung (Sita walking on fire)...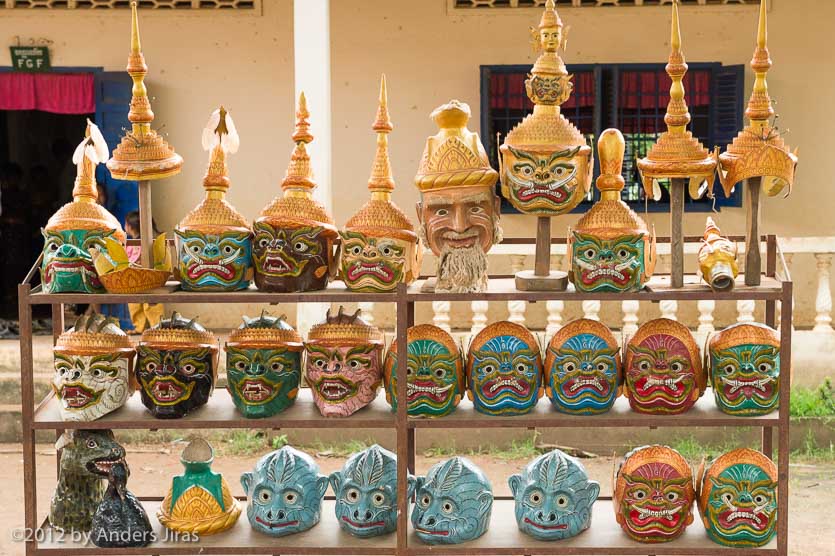 The masks in Vat Svay Andet