Puppets Beyond Borders
PRESS RELEASE
The exceptional artistic exchange project "Puppets Beyond Borders" brings together puppeteers from Germany, France, Cambodia, Myanmar and Thailand in October and November 2011. The artists will engage in workshops in Chiangmai, Phnom Penh and Yangon, encountering each other's different stylistic, technical and contentual approaches to the art of puppetry. Together they will prepare performances in each city, weaving together their newly developed plays centering on the theme "Home". This initiative is promoted by the Goethe-Institut and the French Institutes of Cambodia and Myanmar in collaboration with Empty Space Chiangmai, the German Embassy in Yangon and the Meta House Phnom Penh.
Southeast Asia has a long-standing and very rich tradition in the art of puppetry. The forms of expression are as diverse as the countries themselves, reaching from the famous shadow plays to Vietnamese water puppetry to string- or stick-controlled marionettes. Within this context, the encounter of the Southeast Asian groups Htwe Oo (Myanmar), Makhampon Theatre Group (Thailand), a group of former students of the Theatre Department of the Royal University of Fine Arts (Cambodia) and further local artists with the German Theater Handgemenge and the French ensemble Les Rèmouleurs promises to be a truly inspiring experience, opening up new perspectives on artistic production for all artists involved.
From October 16th until 30th 2011 the puppeteers meet for the initial workshop and two performances (28th - 29th October) at the Empty Space and the CMU Art Museum in Chiangmai. From there they travel to Phnom Penh (workshop November 1st - 3rd, performances November 4th - 5th) and Yangon (workshop November 7th-10th, performances November 11th - 12th), taking the art of puppetry truly beyond borders.
A Burmese/Cambodian film team will accompany the tour, producing a co-directed documentary about this very unique artistic exchange. The film is scheduled to be released in January 2012.

"Puppets Beyond Borders" is a joint initiative by the the French Institutes of Cambodia and Myanmar and the Goethe-Institut in collaboration with Empty Space Chiangmai, the German Embassy in Yangon and the Meta House Phnom Penh. This French-German collaboration is supported by the Elysèe-Fund.


PARTNERS
Empty Space Chiang Mai
Empty Space Chiangmai (ESC), built in 1998, is an independently run and financed international Center for Arts Education, Theater and Performance, Ceramics, and Asian Puppetry. Further it provides workshops in Sustainability, Northern Thai traditional performance art, and is a yearly home for the Long Island University Global College Program. ESC has been supported by Asian Cultural Council, (ACC), Open Society (OSI), Gitameit Music Center Yangon, Chiangmai University, Center for Media, Arts and Design, Goethe-Institut, Institut Français and numerous individuals supporters. www.emptyspacechiangmai.info

French Institute
Succeeding to Cultures France, the French Institute, based in Paris, is the operator of the French Ministry of Foreign and European Affairs for the promotion of language and French culture abroad. The French Institute unites under its brand a network of 130 cultural institutions around the world. In Cambodia and Myanmar, the French Institutes implement the cultural and linguistic cooperation of the Embassy of France. www.institutfrancais-cambodge.com

German Embassy in Myanmar
The Embassy represents Germany in Myanmar and promotes the political, economic, cultural and academic relations between both countries. The Embassy also offers consular protection to German nationals.

Goethe-Institut
The Goethe-Institut is the Federal Republic of Germany's cultural institution operational worldwide. It promotes the study of German abroad and encourages international cultural exchange. The Goethe-Institut also fosters knowledge about Germany by providing information on its culture, society and politics. With its network of 150 Goethe-Instituts, numerous Goethe Centres, cultural societies, reading rooms and exam and language learning centres in 93 countries it has played a central role in the cultural and educational policies of Germany for 60 years. www.jakarta.goethe.org

Meta House Phnom Penh
In 2007 German filmmaker Nico Mesterharm and his Cambodian team opened Phnom Penh's META HOUSE in association with the International Academy at the Free University of Berlin. Cambodia's first art/communication/media center holds an ample art exhibition space and an open-air media lounge offering an excellent space for artists-in-residence and visiting artists to interact. META HOUSE actively supports Cambodian artists and promotes the development of contemporary art in Cambodia through local and international exhibitions, workshops, community-based projects, artist exchange programs and by fostering links with South East Asian and international universities, galleries, curators, non-governmental and governmental organizations.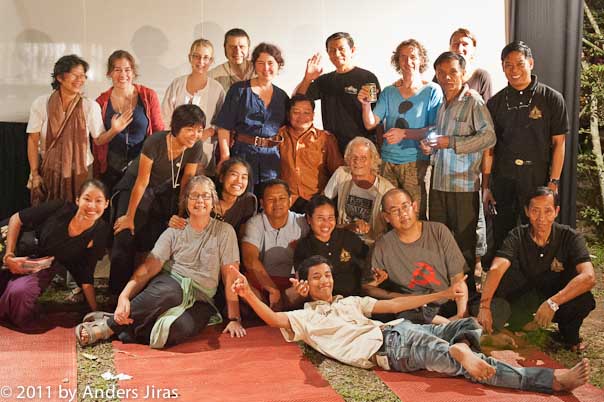 The group at Empty Space Chiang Mai after the first performance